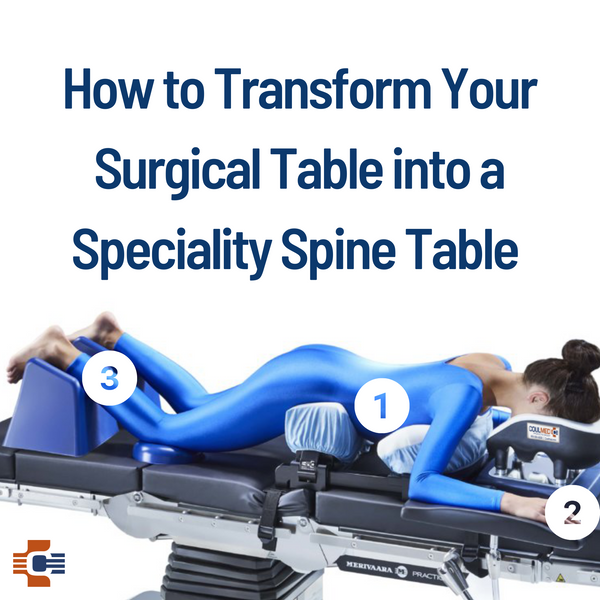 Transform Your Surgical Table into a Speciality Spine Table
The Spine Frame Makes it as Simple as 1, 2, 3

The Spine Frame is a cost-effective tabletop platform that fits all standard operating tables and provides safe and comfortable support comparable to that of a specialist spine table. The adjustable frame is fully radiolucent and the positioning supports allow the abdomen to hang freely, reducing venal pressure.
Our Prone Plus Head
Support System
The Prone Plus Head Support System supports the patient's face during prone procedures to reduce the incidence of pressure related injury. With soft, polyurethane foam, the Prone Plus Face Cushion protects the patient's face within an ABS helmet during prone surgery. The single-use face cushion evenly distributes pressure across the forehead and cheekbones, reducing the incidence of pressure related injury. The adjustable cogs ensure a neutral neckline can be achieved, and the mirror allows for constant patient monitoring. 
Heel Supports 
Soft, wipeable supports to provide safe and easy positioning of the patient's heels while supine. We have seen O.R. tables piled high with a mountain of pillows to position the legs and feet. These positioners not only streamline your table, but the easy-to-clean exterior ensures a safe and clean surface.
Check out our Prone Plus Face Face Cushions here. 
For more information on our Spine Frame and accessories, call us today!